The printer that grows at the same pace as your business
Our innovative development approach has resulted in an exceptional UV printer with an impressive range of options. Due to the unique design of F160, its configuration can be changed and upgraded to match the current needs of your business. All offered options can be factory ordered or added any time later. The F160 is the best choice for those who are looking for a high quality entry level printer, as well as for experienced professionals in the printing industry who need a printer tailored exactly to their needs. Therefore it is easy for us to find the perfect solution for everyone.
PRINT HEADS
Equipped with high quality print heads, the F160 achieves excellent print quality and sharpness. The print resolution up to 2880 dpi brings photographic quality to your prints, eliminating inkjet grain and producing smooth quarter tones. In case double speed is needed, the standard CMYK configuration of 4 print heads is expandable to 8 print heads (2 x CMYK). This configuration may be further enhanced by adding 4 more print heads for white, varnish or spot colors.
PRINT TABLE
The solid construction of the flatbed printer with a table size of 1,65 m x 2,55 m and maximum print height of up to 50 mm enables you to print on a wide range of rigid and flexible materials. The Bridge Lift option brings the extension of print height up to 300 mm.
INK
Qres Ink KM Premium is specially formulated for usage with Qres printers. This high quality inks is characterized by intensive colors, superior adhesion to wide variety of applications, such as flexible, semi-flexible, rigid and uneven media, together with long term exterior and interior performance.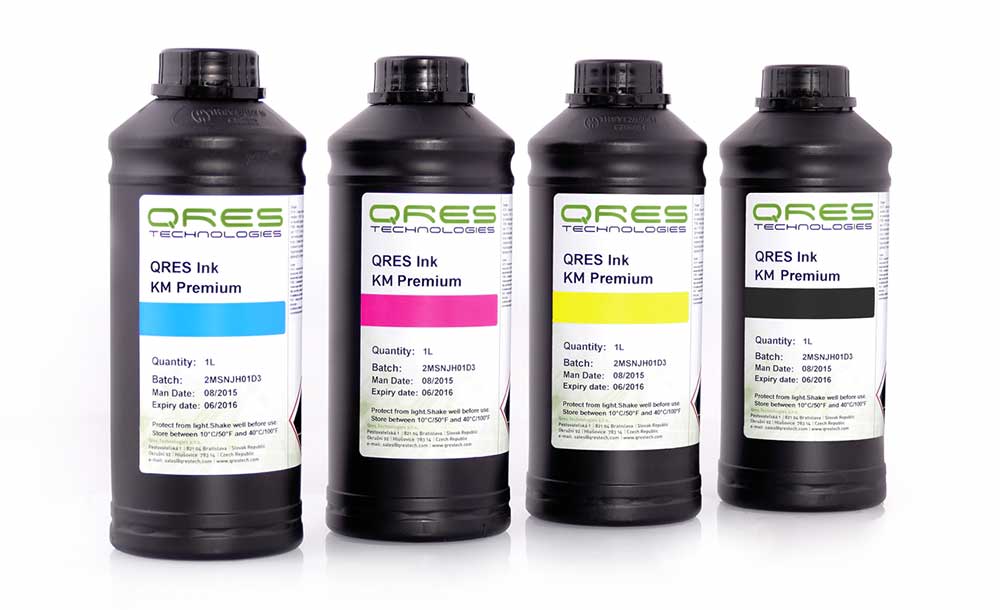 SOFTWARE
Versatility and easy operation, together with an intuitive control system are the main benefits of the Qpro print software. In addition to displaying the basic system data including the print heads temperatures, UV lamps status, ink levels, you can track the status of the print job including number of printed copies or statistical data about ink consumption. Print job settings can be easily found in the print job database. The basic Qpro print software is complemented by Qrip software. Caldera GrandRIP+ software, Colorgate Productionserver 9 and ErgoSoft RIP software is offered as optional for F160.