UV flatbed printer of unique design and high productivity
Based on impressive versatility and configurability of the F200 model, Qres Technologies presents the F200 HS, a high performance large format UV flatbed printer.In addition to unique design, wide range of options and special features, the F200 HS delivers superior print quality and productivity due to the latest generation of high quality print heads. Find the ideal solution developed to match your needs.
PRINT HEADS
The F200 HS is fitted with the latest generation of drop-on-demand inkjet print heads delivering higher productivity due to its high speed performance. Unparalleled sharpness and print fidelity is achieved using a unique wave form. Print resolutions up to 2880 dpi eliminate inkjet grain, producing smooth quartertones and photographic quality. The performance of the standard printer with a single row of CMYK can be effectively doubled by additional print head row. This configuration may be boosted by 4 more print heads for white, varnish or spot colors.
PRINT TABLE
The solid construction of the flatbed printer with extended table size of 2,05 m x 3,25 m and maximum print height of up to 50 mm helps you to expand the portfolio of printing substrates, and to print on almost all kinds of rigid and flexible materials.
INK
Qres Ink KM Premium is specially formulated for usage with Qres printers. This high quality inks is characterized by intensive colors, superior adhesion to wide variety of applications, such as flexible, semi-flexible, rigid and uneven media, together with long term exterior and interior performance.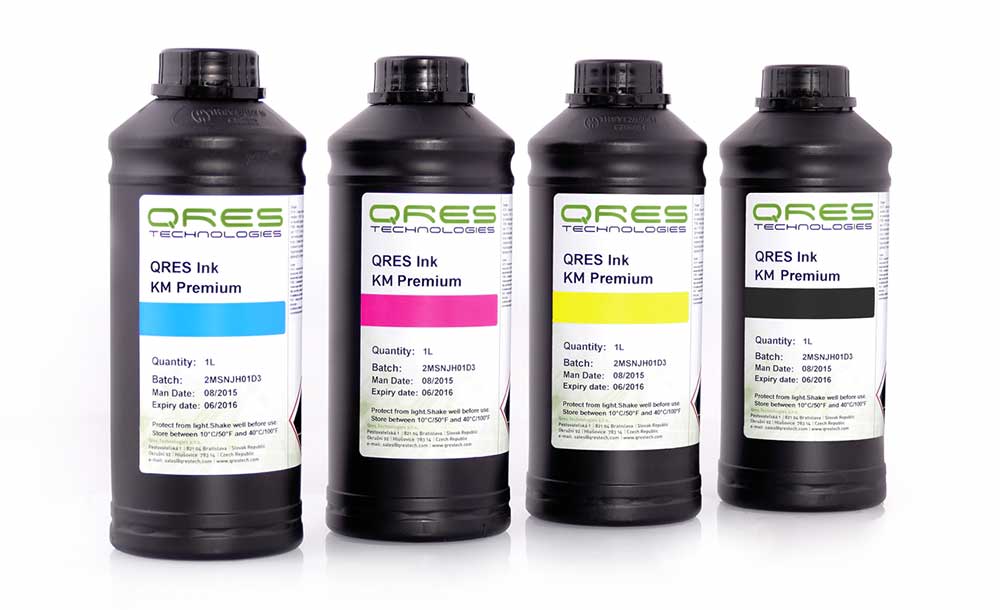 SOFTWARE
Versatility and easy operation, together with an intuitive control system are the main benefits of the Qpro2 print software. In addition to displaying the basic system data including the print heads temperatures, UV lamps status, ink levels, you can track the status of the print job including number of printed copies or statistical data about ink consumption. Print job settings can be easily found in the print job database. Besides the Qpro2 print software, Caldera GrandRIP+ software, Colorgate Productionserver and ErgoSoft RIP software is available as optional.